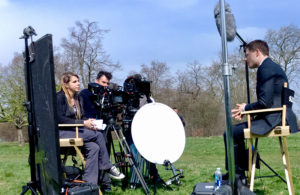 Everyone has a story. Just take the time out to ask what it is. Once you do, you learn about life through that person's eyes and get a front-row seat to their unique experiences and worldview. That's the inspiration behind Wild Wind Productions: passionate people, their inspiring art and their infinite stories.
Wild Wind Productions is a full service independent production company that specializes in episodics, full-length documentaries, multi-camera live music performances and digital content. We cover tours, festivals and behind the scenes for scripted television both domestically and internationally.
WWP's staff consists of talented freelance editors, animators, production managers, graphic designers, audio engineers and camera operators who are outsourced on an as-needed basis depending upon the specific size and scope of each individual project.
Allow us to see the world through your eyes…
DENISE KORYCKI'S BIO
Denise Korycki's work as a director, producer, editor and shooter began in the late 1990s when she interviewed Denzel Washington, Annette Bening and Tony Shalhoub at a press junket for the film, The Siege. Since then, she has produced and edited hundreds of hours of programming for broadcast and web.
While fulfilling her tenure at a variety of networks, she also completed independent production projects with various bands and record labels. This entrepreneurial work ethic eventually led her to branch off and start her own boutique company in 2004 called Wild Wind Productions.
Whether the subject matter is behind the scenes, music, festivals or charity, Denise brings an individual visual style to every project. And there's an unmistakably familiar thread and continuity that runs through all of her work – her warm and engaging ability to immediately connect with her subjects which gives them a comfortable platform to openly share their personal experiences in an intimate and candid manner.
Denise is driven and devoted to giving one hundred fifty percent to every project she is involved in. From conceptualizing and developing the vision of your film to shepherding the end result, she remains completely involved, engaged and invested throughout the whole filmmaking process.
Denise fully owns and operates Wild Wind Productions and also continues to freelance and collaborate with other companies as a producer, director and editor.
Korycki/Wild Wind Productions is based out of Brooklyn, NY, but our diverse and unique approach to production brings life, spirit and heart to any project or story that we help tell around the world.
RESUME